Cultured Cowboy was selected by an experienced saddler who just needed more reach for his saddle business. His expertise is putting great styling, modern looks and function, on affordable saddles. We've struck a deal to offer you a small selection of horse, youth and pony saddles, made just for you. Add to that a few used saddles & discounted close outs.
Saddle pictures are loading below as you read. These initial paragraphs give you a brief overview of some of the lower priced options you can choose through Cultured Cowboy. Enjoy!
Lower investment Saddles are an opening opportunity for many horse people. However, when price only is the consideration, many of us, (me too in my earlier days), have been stung by saddles that ended up being a piece of junk. - Pressed paper skirt liners, or skirts made of so many layers of splits, that fall apart when they get too wet, cheap belly leather, smelly urine tanned leather, stretchy water buffalo leather, plated hardware that corrodes in a couple months, hard polypropylene that feels like it could cut your horse in places it has no business, cheap "hook & loop" substituted for a leather stirrup hobble strap, seat foams that deteriorate to yellow dust within a couple years, foam rubber - sweat absorbing sweat swelling - skirt rotting substitute as a padded lining next to the horse, a sparse fleece that will flatten with any pressure, get slick as glass with a little moisture, bunch up & probably sore your horse.
How about these "new CHEAP saddles" with tree shells filled with sand? (often called "core trees") How about saddle dealers whose lowest price is by only buying defective trees, ( crooked bars, offset angles, split wood, plastics with too many air bubbles), I could go on forever in all the ways a maker can cheap-make a saddle.
Right now, a customer is in the store, familiar with the $300.00 - $400.00 saddles sold at "horse auctions". Even he was grinning at how gullible people are. Sand filled trees. Another dealer told me about that sand leaking out of the tree all over his store, before ever being riden! Stretchy belly leathers at stress points will get you hurt.
Cultured Cowboy screens makers, screens products, actually tears stuff apart to see what's really inside, so you get your best values. We want it right the first time!!! Shipping back & forth cost too much! - Which is why - with many of these saddles under $600.00, you have a maker's warrantee, that they guarantee to fix if defective, yet you have to ship back to factories in Pakistan, or India. - Then you find the shipping, which you pay is more than the initial saddle purchase. WHICH IS WHY so many are so cheap priced on E-Bay, & other such sites. People are getting rid of "PROBLEMS".
OK - I'm not bashing India. Actually, my finest bestest English bridles come from "Bobby's English Tack". Great craftsmanship with European leathers. And many of the saddles here will also be crafted where labor is considerably less than USA, of European leather.
Truth is, just because you're just starting out, doesn't mean you want to get stuck with buying several saddles before you get a good one. EBAY and especially other auctions are buyer beware, and are a favorite place for people working out of their bedrooms to drop ship you something that you have to turn around and EBAY back.
Shipping back and forth a few times will discourage you, even more than eat your budget up. With Cultured Cowboy, you're never "stuck" with a saddle. We exchange and refund, within reason! Better - we ask enough questions about you and your horse and your riding, that we get it right before we ship! So, now we've gotten all that warning stuff out of the way, enjoy these selections.
We often exchange original plated under-skirting screws with the best stainless steel, We look carefully to be sure girth attachments are correct. Yes, the skirt fleece is thinner than some of our other products, but better than that $1.75 per yard stuff (a yard length in a 72 inch fabric is enough to fleece 2 saddles). We do this to insure the saddle will not tear up your good saddle pads! Invest in a better quality pad with your saddle and your pleasure riding will continue to be a pleasure for years to come.
Circle J Saddles have styling formed after studying the most popular saddles of major makers, (legal knockoffs). They look much like Name Brands that are 2X to 2.5X these prices. Handcrafted in areas where saddler salaries are low, but at the top of their local leather-crafter wage availability. European tanned, and Argentine type leathers are used, rather than less desirable hides. We feel this western saddle line will expand. I'll invite you to contact us with ideas, questions, or suggestions.
Because trail type pleasure & barrel racers are so popular in arena sports and for trail riding, we have begun with them. Yes - 5 year warrantees on the trees. The tooling is outstanding! seats are acceptably comfortable.
Would you like to get a new saddle that feels like it is used? We'll heavy oil any saddle for you. We prefer to use Lexol Conditioner. Lexol will darken less than other conditioners. It's PH-Balanced for the leather used in your saddle. We've been using lanolin based Lexol on our personal saddles for over 40 years. Add $120.00 for applying about three liters of Lexol over some several hours of application on saddles. Lexol is best applied in many thin layers. To darken slightly, and finish the process with a delightful finish, we'll hand rub extra virgin olive oil till that white looking lanolin is forced back into the leather. To darken more, we can blend in some pure neatsfoot. The choice is yours! If you choose this option, your saddle will then come out of the box ready to ride in comfort! No sore knees nor ankles!
Remember that a breast collar is a great addition to your saddle purchase. And we have every sort of girth too. Adding a couple brushes, halter, a pad, and such into your saddle box will cost you no extra shipping. (Dim Weights). Saddle boxes are 28 x 20 x 20 usually.
Tooling patterns protect the leather against abrasives. Tooling will "pack" the leather for durability and strength. Tooling can hide small "range" scars that are inherent to the leather before it is formed into a saddle part. Tooling adds depth and beauty to the leather. Tooling will help prevent corners from rolling. Tooling is just a little more effort to clean than a plain saddle. Use an old toothbrush to get into the crevices!
Hey, by the time we get through spoiling you, you'll always want to buy your saddles and tack from us!
We strive to keep over 150 saddles in stock. The stock saddles can be to you in a week or less. But, there is nothing like having a saddle semi-custom made for your horse and your body. Usually your saddle can be delivered within 2 to 12 weeks if not in our stock. (We use the ready made inventory warehouses of saddle makers.) 12 weeks if a tree need to be made to then make the saddle. Leather is cut, wet, dried, fitted and pulled. It cannot be rolled off a bolt and processed like fabrics. This does take time to do right.
Saddle makers are as excited about making your saddles as you are about riding! We've chosen our Internet providers because of their consistency in quality of product. Cultured Cowboy knows that most of our customers want value for their hard earned money. A short wait for a really good saddle is worth your "wait" in gold!
With the experience of thousands of saddles made for thousands of horse people, Cultured Cowboy looks forward to helping you with your needs. Tired legs, hurting knees, lower back pains, need grip, need freedom, need speed, need to impress your friends, need to impress your equine, need help, need a hug? Give us a call. 864-223-3700
God Bless You,
Cultured Cowboy
---
Basic Styles shown are usually in stock and everyday low priced as shown. We even beat the auction prices. However, there are too many options to Advertise every possible Low, Low Price on every combination!
Our policy is to provide the lowest price possible, while maintaining enough profit to service your needs properly. Our pricing is very fair, but we must eat a bean, or two, to enjoy helping you to select the "right" saddle for your needs.
We will deliver more saddle value for the buck than anyone because we know more about riding and fitting saddles than most! (No brag, just fact!)
New Saddles ARE FIRST QUALITY SADDLES WITH 5 YEAR TREE WARRANTEES.
Used Saddles are inspected, and we'll let you know everything we know about them. Saddle warrantees from saddle makers are only to the original purchaser. and most of this is from the warrantee of the tree maker.
Please e-mail your requests or call us for a friendly quote on your "Dream Saddle". Hundreds and hundreds of people have found the call well worth their time! ;-) God Bless, Chuck
---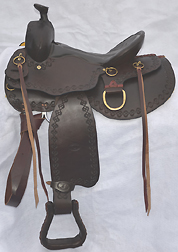 CircleJ MJ Barrel Saddle
15" in stock
CircleJ CJ Barrel
14 In Seat
Softy Leather
Circle J Trail
16 in Seat, Popular styling
Brass trim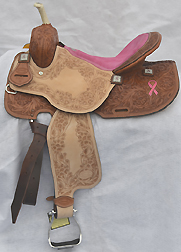 More saddles are coming to this page
16 Inch Showman
Awareness Pink
Saddle - $599.99
Limited Edition
SOLD
---
---
Breast Collars Page 1 Breast Collars Page 2 Headstalls Stirrups
Mayatex Blankets | Tacky Tack Pads | Reinsman Pads | Bits | Weaver Saddlebags