CULTURED COWBOY PRESENTS
---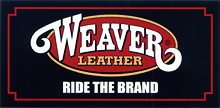 Weaver Leather Products
---
Pack saddles - Packing Gear, Trail Bags, Water Bottle Carriers, Panniers, etc.

At first, we had all the pack gear with the saddle bags. Now we split it up for easier downloading for you. This page has mostly packing equipment. For Saddle Bags to ride with smaller excursions page, click here.
On short rides, or long rides, seems like there's always some little something we need. I like to set up my bag and leave it ready to go well ahead of time, so that all I have to do is tie it on and go. In fact, I have a couple bags, depending on how long I'm going to be gone. A brush here, water bottle there, cotton lead, baggie of feed, ...then I might want a beer or peanut butter/saltine cracker, toothpaste, spare socks, sunscreen, ...
Weaver Trail bags are made of weather resistant leathers, or weather resistant Cordura type nylons. Leather straps on pack equipment are mostly heavy harness type. Latigo where needed. Stitching is significant. Where needed, even the nylon is backed with poly webbing. Snaps and straps help make everything adjustable and easy to access.
Weaver manufactures a wide variety of high quality leather and nylon tack. They distribute fine tack-related products. Being able to get spare parts, interchangeable parts, and replacement parts are great too.
Here's a partial list of their related offerings: bits, saddle parts, breast collars, bridles, brushes and combs, cinchas, cotton leads, curbs, halters, halter bridles, leather care items, nosebands, pack equipment, poly leads, reins, saddle bags, saddle pads and blankets, saddle scabbards, spurs, stirrups, tie downs, trailer and cross ties, training equipment, and whips.
Quality is important to you, and quality is important to Weaver. Cultured Cowboy is proud to be one of their distributors. If there is a Weaver Leather product you need, just email or call us. We'll be glad to get it for you soon.
Yes, Weaver is also a large supplier of raw leather, sides, shoulders, backs, bends, and straps. And, snaps, saddlery & harness hardware, spare parts, rivets, and leather tools, accessories & equipment. Yes, if you like to make your own tack, Cultured Cowboy will be glad to help you here too. Ya gotta call for this stuff. Prices on tack making supplies change with quantities, seasons, whims, and sometimes, the wind. Thanks & God Bless, CC
---
Weaver Leather Pack Equipment

We often wonder what leather is best for our trail bags. Cordura type heavy nylons, nylon and polypropylene webbing, harness leathers, ... all these hold well in a variety of weather conditions. Remember that from time to time, you need to re-proof, or treat your pack gear. Snow seal, and similar products for leathers, Duckback dressing, or silicone products can be used on the tent-like materials. Cultured Cowboy has all these products. Just call us. or search under the M&F part of our site. or the Outback Trading part of out site.
Now that that's almost out of the way... Weaver makes a good medium quality bag of Top Grain Chap leathers. Stitched on the inside for a finished looking touch, because the leather is soft enough to turn inside out for the stitching! 4 inch width will accommodate most rides. Brass plated hardware. Brown or Black. Oil it to preserve it. (We can Lexol condition for $23.00 extra. 100% Neatsfoot oil for $16.00 extra.) Tell us to oil it and which conditioner you prefer, when you order. (Neatsfoot will deeply darken this leather.)

Old Timer Canteen Bag - (includes 2 quart canteen shown) - Top Grain leather, Burgundy Latigo leather. Strap on back of canteen holster for fastening to your saddle. Hole in bottom for easy cleaning. Size: 2 quart.
Item #WEA 90-4325
CC Price: $63.99
Compare at: $74.50
Canteen only: #WEA 65-0050 CC Price: $13.99




Old Timer Chap Leather Cantle Bags - Top Grain Brown Chap leather. Weather resistant finish and a handy top access zipper. Tie rings. Cantle bag fits snug against your saddle. Little bounce. Holds binoculars, camera, and other small necessities. Size: 5 in wide x 22 in long x 4 in deep.
Item #WEA 90-4245
CC Price: $77.99
Compare at: $84.00

---
Weaver Nylon Saddle Bags
These bags are strong. They hold stuff. Nuff said?
Heavy Duty Nylon Saddle Bags - Roomy saddle bags fit behind your saddle. More straps and ties to better position this saddle bag, than most others. Brown only. Weather resistant finish and zipper fastening for easy access to your stuff. From time to time, apply a coating of "Scotchguard" to weatherproof and make it easy to clean. Ties all over. Fold over lip on top bag. Two Sizes to suit your needs:

Large: Top Bag - 10.5 in wide x 26.5 in long x 8 in deep. Side Bags - 14.5 wide x 12.5 long x 5 in deep. 5 compartments overall.
Item #WEA 15-0102
CC Price: $112.99
Compare at: $130.00

Small: Top Bag - 6.5 in wide x 22 in long x 6 in deep. Side Bags - 10.5 wide x 12 long x 4.5 in deep. 3 compartments overall.
Item #WEA 15-0100
CC Price: $87.99
Compare at: $100.00




Heavy Duty Nylon Cantle Bags - Roomy cantle bags fit behind your saddle. Black, Brown, or Hunter Green. Weather resistant finish and zipper fastening for easy access to your stuff. From time to time, apply a coating of "Scotchguard" to weatherproof and make it easy to clean. Ties. Two Sizes to suit your needs:

Large: 6.5 in wide x 19.5 in long x 6 in deep. (Black or Brown only)
Item #WEA 15-0142
CC Price: $15.99
Compare at: $20.00

Small: 5 in wide x 15.5 in long x 6 in deep. 3 compartments overall. (Black or Brown only)
Item #WEA 15-0140
CC Price: $14.99
Compare at: $18.00

| | |
| --- | --- |
| | |
| Item #WEA 15-0180 | |

Heavy Duty Nylon Water Bottle Bags - Easy fitting clip-on bags hang onto your saddle dees or saddle bag dees. Choose colors from 15-0180 Black, Red, Hunter Green, Brown, 15-0181 Pink or Pastel Blue. Weather resistant finish and Velcro fastening for easy access to your drink. From time to time, apply a coating of "Scotchguard" to weatherproof and make it easy to clean.

Both color groups come with a re-sealing trail riding water bottle.
Item #WEA 15-0190 (Black or Brown)
CC Price: $14.59
Compare at: $16.00

---

Saddle Strings
Sold by the 1/2 dozen. (Also, Priced each for your convenience) Need just a couple? There are also the Weaver Leather Two Piece Packs.

Item #WEA 30-1315
Used for ties holding larger straps
1/4" x 12"
CC Price: 6 for $4.26 ($0.71each)
Compare at: $1.00 ea
Item #WEA 30-1316
Used for ties holding larger straps
5/16" x 12"
CC Price: 6 for $4.26 ($0.71each)
Compare at: $1.00 ea
Item #WEA 30-1720
Good small tie strings
1/2" x 36"
CC Price: 6 for $22.05 ($3.99each)
Compare at: $4.00
Item #WEA 30-1722
Good medium tie strings
1/2" x 48"
CC Price: 6 for $29.99 ($5.09each)
Compare at: $5.50
Item #WEA 30-1724
Good long tie strings
1/2" x 60"
CC Price: 6 for $36.99 ($6.84each)
Compare at: $6.95
Item #WEA 0-1726
Good Xtra-long tie strings
1/2" x 72"
CC Price: 6 for $53.94 ($9.49each)
Compare at: $10.80
Item #WEA 30-1744
Strong easy tie small tie strings
3/8" x 36"
CC Price: 6 for $17.99 ($3.29each)
Compare at: $3.50
Item #WEA 30-1746
Strong easy tie medium tie strings
3/8" x 48"
CC Price: 6 for $23.00 ($3.99each)
Compare at: $4.25
Item #WEA 30-1748
Strong easy tie long tie strings
3/8" x 60"
CC Price: 6 for $28.90 ($4.95each)
Compare at: $5.20
Item #WEA 30-1750
Strong easy tie Xtra-long tie strings
3/8" x 72"
CC Price: 6 for $33.99 ($5.79each)
Compare at: $6.85




These Premium Burgundy Latigo Leather Saddle Strings are strong, flexible, and popular.

Item #WEA 30-1727
1/2" x 72"
Two Piece Handy Pack

CC Price: $16.99 ea.
Compare at: $19.80

Alum Tanned Leather Laces - Sold by the 1/2 dozen. (Also, Priced each for your convenience)
Item #WEA 30-1770
1/8" x 40"
Chestnut
CC Price: 6 for $12.60 ($2.19each)
Compare at: $2.26 ea
Item #WEA 30-1775
1/8" x 54"
Chestnut
CC Price: 6 for $14.62 ($2.45each)
Compare at: $2.60 ea
Item #WEA 30-1780
1/8" x 72"
Chestnut
CC Price: 6 for $16.86 ($2.99each)
Compare at: $3.20 ea
Item #WEA 30-1767
3/16" x 72"
Chestnut
CC Price: 6 for $22.89 ($3.99each)
Compare at: $4.25 ea
Item #WEA 30-1318
3/16" x 12"
Burgundy
CC Price: 6 for $4.69 ($0.92each)
Compare at: $1.00 ea

Item #WEA 30-1781
1/8" x 72"
Chestnut
Two Piece Handy Pack
CC Price: $6.99
Compare at: $8.50 ea


Chrome Tanned Leather Laces - Sold by the 1/2 dozen. (Also, Priced each for your convenience)
Item #WEA 30-1782
1/8" x 72"
Black
CC Price: 6 for $16.94 ($2.94each)
Compare at: $3.00 ea
Item #WEA 30-1784
1/8" x 72"
Chestnut
CC Price: 6 for $16.94 ($2.94each)
Compare at: $3.00 ea
Item #WEA 30-1765
3/16" x 72"
Black
CC Price: 6 for $27.66 ($4.77each)
Compare at: $5.00 ea
Item #WEA 30-1790
5/16" x 40"
Rust
CC Price: 6 for $19.99 ($3.89each)
Compare at: $4.30 ea

---


More Trail Riding Necessities


Item #WEA 35-1925

Cotton Picket line - Use with picket stake, drag, or trees. 3/4 inch cotton x 27 ft long, with bull snap at end. Great with "Knot Eliminator" picket line loops.
Item #WEA 35-1925
CC Price: $34.99
Compare at: $39.00

Item #WEA 65-0020

Knot Eliminator - Use with picket stake, drag, or trees. FIts around your picket lines without tangles, or easy breakage. Eliminates slippage down the line on multiple horses. Easy to follow instructions on card. Forged zinc with red protective cover. Size 4in x 4in. Weight 4.5oz.
Item #WEA 65-0020
CC Price: $7.99
Compare at: $9.00

Item #WEA 65-0025

Picket Stake - High strength impact aluminum picket stake. Tough iron swivel and replaceable nut top. Easy attachment to your line. Wedge lock helps keep stake securely in ground. 15 inches long, weighs 1.2 lbs.
Item #WEA 65-0025
CC Price: $29.99
Compare at: $36.00
Item #WEA 35-7001 Nylon HD Hobbles
Item #WEA 30-2000 Leather HD Hobbles

Nylon - is double and stitched 1 3/4 inch brown nylon lined with 1/4 inch thick black 100% felt.
Leather - is single ply 1 3/4 inch russet harness leather lined with soft top grain chap leather.

Hobble chain swivels to avoid tangles. Nickle plated hardware.
Item #WEA 35-7001 Nylon
Compare at: $48.00 CC Price: $40.99
Item #WEA 30-2000 Leather
Compare at: $86.00 CC Price: $78.99


Item #WEA 30-2106 Latigo Leather Hobbles

Leather - is double and stitched 1 3/4 inch latigo leather. Adjustable fit. Nickle Plated Hardware.
Item #WEA 30-2106 Leather
Compare at: $52.00 CC Price: $46.99

Item #WEA 35-6990 Nylon Hobbles

Nylon - is double and stitched 1 inch brown nylon lined with 1/4 inch thick black 100% felt backed with 2 inch webbing. Adjustable fit. Nickle Plated Hardware.
Item #WEA 35-6990 Leather
Compare at: $36.00 CC Price: $31.99


Item #WEA 35-2445

Mohair/Rayon Blend 50 Strand Double Pack Cinch
3 inch rings for security. Nickel Plated Hardware. 30 inch size.
Item #WEA 35-2445
Compare at: $54.00 CC Price: $48.99

Item #WEA 35-6995

3 Way Nylon Hobbles - is double and stitched 1 inch brown nylon lined with 1/4 inch thick black 100% felt backed with 2 inch webbing. Adjustable fit. Nickle Plated Hardware.
Item #WEA 35-6995 Leather
Compare at: $54.00 CC Price: $48.99

Item #WEA 40-1256

Cinch Ring Guard
Helps to protect both girth rings from sweat, and your horse from the metal. Ties in place for security. Burgundy Latigo leather with fleece lining. Sold in Pairs.
Item #WEA 40-1256
Compare at: $38.00 CC Price: $32.99

---

Rifle Scabbards & Shotgun Scabbards

All leather scabbards are hand finished oiled and conditioned for durability in all weather. (Yes, they need additional treatments with Snow Seal, or similar products, from time to time.) Made well enough to protect your investment in most situations.


Cordura Rifle Scabbard

Item #WEA 15-1050

Cordura Rifle Scabbard - Stitched to last, from 1000 denier Cordura nylon fabric. Features 2 inch wide webbing strap with Velcro closure for easy rifle removal. Fleece Lined for extra protection. Brown. All the tie rings and hangers you need. Nickel plated hardware.

Compare at: $84.00
CC Price: $73.99


Heavy Duty Leather Gun Scabbard with Flap

Item #WEA 65-3265

Heavy Duty Rifle Scabbard - Oiled and treated top grain dark russet harness leather. Strong nylon stitching. Snap closure for easy rifle removal. Unlined. All the slots and hangers you need. Chrome plated brass hardware.

40 inch x 9 inch size is designed to fit high powered rifles with larger variable scopes.

Compare at: $165.00
CC Price: $147.99


Heavy Duty Leather Gun Scabbard with Flap - Fleece Lined

Item #WEA 65-3266

Heavy Duty Fleece Lined Rifle Scabbard - Oiled and treated top grain dark russet harness leather. Strong nylon stitching. Snap closure for easy rifle removal. Fleece lined for increased protection. All the slots and hangers you need. Chrome plated brass hardware.

40 inch x 9 inch size is designed to fit high powered rifles with larger variable scopes.

Compare at: $181.00
CC Price: $172.99


Heavy Duty Leather Gun Scabbard

Item #WEA 65-3255

Heavy Duty Rifle Scabbard - Oiled and treated top grain dark russet harness leather. Strong nylon stitching. Open end for easy rifle removal. Unlined. All the slots and hangers you need. Chrome plated brass hardware.

36 inch x 8 inch size is designed to fit high powered rifles, bolt action or lever action, many shotguns.

Compare at: $132.00
CC Price: $125.99


Heavy Duty Leather Carbine Scabbard

Item #WEA 65-3260

Heavy Duty Carbine Scabbard - Oiled and treated top grain dark russet harness leather. Strong nylon stitching. Open end for easy rifle removal. Unlined. All the slots and hangers you need. Chrome plated brass hardware.

32 inch x 5 inch size is designed to fit carbines and brush guns.

Compare at: $96.00
CC Price: $83.99

---

Pack & Pannier Equipment

Most people think of these big bags as something only used on elk hunts in Montana. Truth is, if your family is going camping anywhere, this pack gear will hold all your needs. See parts of American wilderness you would never be able to adventure without them. Just one extra horse or burrow will allow you to lighten the load on your ride, and still contain all the necessities needed. (OK. Maybe two, or three extra pack animals, if my mom is going!)

Item #WEA 90-4550 Shown in Picture. (with 35-1800 pad)

Item #WEA 90-5002COMP also includes not just the pack saddle pictured above, but also:
Comes complete with Combination Pack Saddle Pad #WEA 35-1800, Pack Saddle Panniers #WEA 15-0115, Top Pack #WEA 15-0120, WEA-35-2445 Double Girth and the Harness straps shown.

Pack Saddle w/ Harness Leather Straps - Double rigged sawbuck pack saddle with russet harness leather straps. Completely rigged and ready for use with britching, breast collar, and rayon 15 strand cinches. Breast collar and britching are made of 3 inch cotton webbing lined with soft chap leather. Straps are fully adjustable to fit pack animals up to about 1300 pounds. Brown nylon webbing cinch latigos.

Item #WEA 90-4550
CC Price: $394.99
Compare at: $407.00

Item #WEA 90-5002COMP CC Price: $893.95

Add the Pannier boxes for only $340.99 Pair - Item #WEA 90-4399




Item #WEA 90-4555 Shown in Picture. (with 35-1800 pad)

Item #WEA 90-4555COMP also includes not just the pack saddle pictured above, but also:
Comes complete with Combination Pack Saddle Pad #WEA 35-1800, Pack Saddle Panniers #WEA 15-0115, Top Pack #WEA 15-0120, WEA-35-2445 Double Girth and the Harness straps shown.

Deluxe Pack Saddle w/ Harness Leather Straps - Double rigged sawbuck pack saddle with russet harness leather straps. Completely rigged and ready for use with britching, breast collar, and rayon 50 strand double pack cinches. Breast collar and britching are made of matching russet harness leather lined with soft chap leather. Straps are fully adjustable to fit pack animals up to about 1300 pounds. Burgundy latigo leather cinch latigos.

Item #WEA 90-4555
CC Price: $580.99
Compare at: $598.00

Item #WEA 35-1800 Combination Pack Saddle Pad - Covered in brown canvass, with a removable fleece liner. Features Sewn in nylon webbing loops that the breaast collar straps run through to prevent pad shifting. 30 x 44.
CC Price: $88.99
Compare at: $98.00



Item #WEA 90-4555COMP CC Price: $1079.85

Add the Pannier boxes for only $340.99 Pair - Item #WEA 90-4399


Item #WEA 15-0120 Top Pack Shown in Picture with 15-0115 Panniers




Pack Saddle Top Pack & Panniers - H Shape top pack is made from brown nylon having adjustable straps that attach to the top rings of pack or riding panniers. Double slide lockable zipper allows controlled access from either side.A Velcro secured storm flap aids in protection from weather.

Item #WEA 15-0120 Top Pack
CC Price: $115.99
Compare at: $122.00

Brown Nylon pack saddle panniers feature a lash cinch, nylon webbing reinforcements and steel conduit pipe support.

Item #WEA 15-0115 Panniers
CC Price: $245.99 pair
Compare at: $270.00



Double Pack Cinch

Mohair/Rayon Blend 50 Strand Double Pack Cinch
3 inch rings for security. Nickel Plated Hardware. 30 inch size.
Item #WEA 35-2445
CC Price: $47.99
Compare at: $54.00


Pannier Boxes
3 High density, extruded polyethylene pannier boxes are strong, yet flexible enough to comfortably conform to the pack animal's sides. Hand fitted, pop-riveted construction with nylon webbing handles. Sold per pair. 26 1/2 inches long x 11 1/4 inches wide x 16 inches deep.
Item #WEA 90-4399
CC Price: $340.99 Pair
Compare at: $350.00


Harness Leather Saddle Britching
Britching is constructed with russet harness leather. Straps adjust to fit saddles and packs. Fits large and small animals. Nickel plated hardware.
Item #WEA 75-9000
CC Price: $131.99
Compare at: $160.00


Nylon Saddle Britching
Britching is constructed with 2 inch reinforced brown nylon lined with 1/4 inch black 100% felt. Straps adjust to fit saddles and packs. Fits large and small animals. Nickel plated hardware.
Item #WEA 35-0100
CC Price: $64.99
Compare at: $72.00




All Cruppers come Black or Russet.


Item #WEA 75-4001 Complete Single Strap Crupper
CC Price: $41.99
Compare at: $45.00

Item #WEA 75-4002 Complete Double Strap Crupper
CC Price: $55.99
Compare at: $60.00

Item #WEA 75-4963 Crupper with Buckles
CC Price: $28.99
Compare at: $33.00
Item #WEA 75-4951 Crupper without Buckles
CC Price: $15.99
Compare at: $18.00
Item #WEA 75-4950 Draft size Crupper without Buckles
CC Price: $23.99
Compare at: $26.00

Cruppers
Flax seed filled, vegetable tanned leather cruppers. Cruppers help keep your saddles stable in rugged terrain. Flax seed filling produces an oil that helps to prevent chaffing. Cruppers are available with or without buckles, and as a saddle crupper with one 1 1/4 x 30 inch strap or two 1 1/4 x 30 inch straps. Complete two strap crupper features a split strap design and two snaps to attach to existing saddle dees. Single strap usually connects to a crupper dee centered on rear skirt, or back of the cantle of your saddle. Straps adjust to fit large and small animals. Chrome Brass snaps and buckles on straps, stainless steel buckles on cruppers. All are available in black, or russet.


Tree Ties
Durable 1 3/4 inch brown nylon tree ties loop around tree and attach to picket line to prevent damage to trees. Dee on one end and ring on the other. Nickel Plated Hardware. 83 inches long. Sold in pairs.
Item #WEA 35-1930
CC Price: $38.99 pr
Compare at: $44.50

---