CULTURED COWBOY PRESENTS
---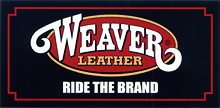 Weaver Leather
Horse Care Products
---
Equine Products That Make a Difference
Weaver manufactures a wide variety of high quality leather and nylon tack. They distribute fine tack-related products. Here's a partial list of their offerings: bits, Blevins buckles, breast collars, bridles, brushes and combs, cinchas, cotton leads, curbs, halters, halter bridles, headstalls, latigos, off billets, leather care items, livestock supplies, nosebands, pack equipment, poly leads, reins, saddle bags, saddle pads and blankets, saddle strings, scabbards, spurs, stirrups, stirrup leathers, tie downs, trailer and cross ties, training tack and whips. This page shows some of their exclusive products. There are links at the bottom of this page to all the other parts of horse tack you would like to see.
Quality is important to you, and quality is important to Weaver. Cultured Cowboy is proud to be one of their distributors. If there is a Weaver Leather product you need, just email or call us. We'll be glad to get it for you soon.
Yes, Weaver is a large supplier of raw leather, sides, shoulders, backs, bends, and straps. And, snaps, saddlery & harness hardware, spare parts, rivets, and leather tools, accessories & equipment. Yes, if you like to make your own tack, Cultured Cowboy will be glad to help you here too. Ya gotta call for this stuff. Prices on tack making supplies change with quantities, seasons, whims, and sometimes, the wind. Thanks & God Bless, CC
---
| | |
| --- | --- |
| | Humanely and effectively stops horses of all ages, breeds and disciplines from the expensive and potentially harmful vice of cribbing - GUARANTEED! |
The Miracle Collar features a patented, anatomically correct fit which allows it to be worn comfortably and applies pressure only when the horse attempts to crib. As a result, horses can wear the Weaver Miracle Collar without pain or discomfort while drinking, eating, grazing or being ridden.
Leather connector strap helps keep browband in place and ensures that the Miracle Collar will not slide around or off and become ineffective.
Carefully crafted from the highest quality weather resistant harness leather for strength and gentleness to the hair coat.
Available with optional browband and jowl fleece covers for extra horse comfort.
Eliminates the need and expense of other anti-cribbing products like paints, sprays, straps, etc.
Guaranteed to stop cribbing of all horses, regardless of age, breeding, or riding discipline.
Stainless Steel hardware.
Look for Miracle Collar's Eye-catching Packaging!


Packaging illustrates how to position Miracle Collar on the horse's head and includes complete instructions for use. Look for the Miracle Collar logo and patent numbers embossed on each collar to ensure you're looking at the one and only Miracle Collar.

Beware of imitation collars that aren't guaranteed to humanely and effectively prevent cribbing. These look-alikes do not feature the same patented design and could even be harmful to your horse.
Weaver Miracle Collar
is now Available in Most Sizes

Small - fits weanlings, yearlings and small ponies.
Choose Russet or Havana color. (Havana shown above.)

Item #WEA 30-1262 Box

CC Price: $55.99
Compare at: $61.00

Medium - fits large ponies and average size horses.
Choose Russet or Havana color.

Item #WEA 30-1263 Box

CC Price: $55.99
Compare at: $61.00

Large - fits warmbloods, drafts and large horses.
Choose Russet or Havana color. (Havana shown above.)

Item #WEA 30-1264 Box

CC Price: $55.99
Compare at: $61.00
Miracle Collar Fleece Covers

Item #WEA 35-0005
CC Price: $11.99
Compare at: $13.00

Standard Cribbing Straps

Item #WEA 30-1250
Harness Leather and Aluminum
C Price: $33.99
Compare at: $36.00

Item #WEA 35-4078
Nylon and Aluminum
CC Price: $15.99
Compare at: $17.00
---
Opt-E-Horse Complete
The Supplement for Every Horse

Multivitamins
Trace Minerals
Digestive Aids
Probiotics

Biotin
Selenium
Natural-Source Vitamin E
Rich in Copper and Zinc

Formulated by nutrition professionals to meet the needs of horses in every stage of life and performance, Opt-E-Horse Complete is a nutrient-packed, easy-to-feed, all-in-one supplement. Its simple, multiple supplement power in one convenient formula. Nutrient for nutrient, Opt-E-Horse Complete is a better value and true time saver, over feeding multiple supplements.

Opt - A unique combination of digestive aids and antioxidants equals optimum conditioning and performance.

E - Natural-Source Vitamin E absorbs into your horse's body better than synthetic vitamin E because it comes from vegetable oil (not petroleum like its synthetic substitute), allowing your horse to fully benefit from the vitamin E compound.

Horse - Ideal for all types of horses from performance to pleasure horses. Any horse, especially those under stress from traveling, working, training and showing, can benefit from this great supplement.

Complete - A supplemental source of vitamins, minerals, digestive aids, probiotics and biotin, Opt-E-Horse is filled with all the vitamins, minerals and aids horses need in addition to their regular diet. This unique all-in-one formula eliminates the risk and cost of feeding multiple supplements.

Labeling - explains in detail, feeding instructions for horses at various sizes, ages, workloads, and reproductive phases.

3 Lbs container
Item #WEA 65-2000-3
Sold each, or by a case of 4. 3 lbs is a 45 to 90 day supply for one horse in average condition with an average workload.
CC Price: $33.99 per 3 Lb container, Case of 4: $128.99
Compare at: $40.00 each

25 Lbs container
Item #WEA 65-2000-25
Sold each, or by a case of 4. 25 lbs is a 40 to 80 day supply for ten horses in average condition with an average workload.
CC Price: $225.99 per 25 Lb container, Case of 4: $901.99
Compare at: $274.00 each

---

Lil Dude Saddle Stirrup Systems

Kids can Ride More Confidently in your Full-Sized Western Saddle -

Comfortable, convenient and time saving - Lil' Dude Stirrups by Weaver are an easy way to help children learn to ride. These unique stirrups slip over the saddle horn of most full-sized Western saddles to increase young riders' confidence and comfort, while eliminating the time spent switching to a child-sized saddle or moving adult length stirrups up to a child's length. Plus, the horse can wear a saddle that fits well instead of a child-sized saddle that may rub, pinch and cause saddle sores. Quality crafted Lil' Dude Stirrups will provide dependable service to generations of young horse lovers.

The patented design of Lil' Dude Stirrups features a large front panel that keeps the child more securely centered in the saddle.

Please Always Remember that horses are large, Powerful animals, and should only be ridden with proper adult supervision.

Item #WEA 30-0789


Choose Sunset or Russet color
CC Price: $86.99
Compare at: $90.60

Sunset Color

Russet Color
---
Leather Cleaner, Conditioners

We are often asked, "How often do I need to clean, or oil, my tack?" My mind's first response is always, "As often as it needs it." Seriously, there are people who just don't know. I have been with horse lovers that probably have not conditioned their horse equipment since they brought it home the first time. Leather is skin that has been treated to make it useful. Like the skin on your body, it needs to be cleaned and moisturized by natural oils. As long as your skin is attached, your body's moisture will keep it supple. When you get a blister, and it begins to peel, you notice it gets hard and easily falls apart. The skin has cut itself off from the moisture and it's soon gone. Leather is the same way.
I got in the habit of wiping down my tack every time I finished for the day, before I went to eat supper. Working with it daily, you can see the subtle changes. Sweat, salt, rain, dry weather, all can crack it. I keep a rag in a jar that is laden with Lexol, to keep evaporation at a minimum and prevent more dust collection between uses. I clean off all heavy mud and grime by water hose, then wipe dry with an old towel and then apply another light coat of oil. Every now and again, it might need a deep cleaning. But by doing it all along, I get much better results by good treatment often.
If you have students, friends who always want to ride, or "hangers-around", a great way to introduce them to tools of the trade is to have them condition the tack. Just like grooming the horses, they gain confidence through familiarity. You get stuff done!

...However, if you choose not to take care of your stuff, we always have more to sell, & really need the money! God Bless, CC
---
Weaver Super 8 Horn Wraps
Unique "Figure 8" nylon horn wrap with white hospital felt lining to protect the head, ears and horn base from rope burns. The wrap around design keeps the wrap in place. Easily adjusts to fit any size steer. Extended ear flaps hold ears down and out of the way. Features Weaver's exclusive nickel plated 999WL roller buckle. Choose from blue, red, teal or brown.

Item #WEA 35-8012
Choose blue, red, teal, or brown color
CC Price: $20.99
or 3 for $19.50 each
0r 6 for $18.99 each
Compare at: $22.00
---
Stacy Westfall Activity Balls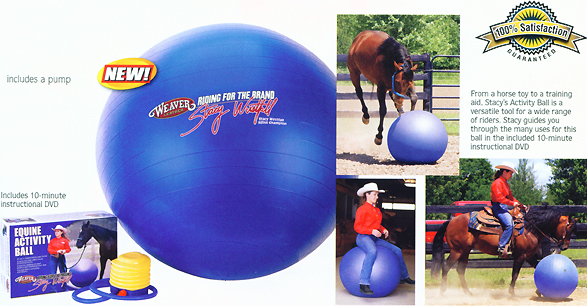 This multi-use ball can be can be used as an aid in training horses, a tool to help rider work on balance, improving seat position, and a horse toy that offers hours of enjoyment. Incorporating the training ball into training sessions helps desensitize horses, reducing "Spookiness" or over-reacting to new things.

For the rider, it works core muscles for improved balance and seat position. Used as a toy, this activity ball provides hours of fun, helping your horse to release energy in a healthy way.

The Stacy Westfall Activity Ball includes a 10 minute DVD featuring Stacy Westfall guiding you through the proper uses for your activity ball. Also included is a pump for easy inflation.

95 " inflated circumference. Ships deflated to save you money.

Item #WEA 65-2400
Activity Ball - Blue
CC Price: $40.99 Compare at: $44.00
---
Listed Below are the Links to more Weaver Leather Products.
---
Weaver Leather Index | Saddle Cinches, Parts & More | Strap Goods | Training Equipment | Weaver Trail Bags | Pack Saddles | Chaps & Chinks | Spurs n Spur Straps | EZ All

Weaver Collections: Austin | Back in Black | Barbed Wire | Horizons | Pretty in Pink | ProTack | Rock Star | Stacy Westfall | Stockman | Texas Star | Trail Blazer
Weaver Collections are being updated in May. We still have some inventory left in older collections, not shown. Anything listed at Weaver's website, www.ridethebrand.com can be yours through Cultured Cowboy. Just call or email the contact info below.


"How to Place your Orders with us or, Buy it Now "
---
---
For Everything Cowboy from hats to boots Visit www.culturedcowboy.com
| cowboy@culturedcowboy.com |
Email or Call Us to Order! 864-223-3700 or 1-866-492-6926 Toll Free