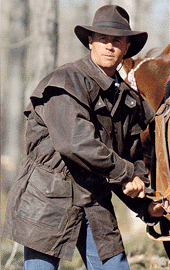 Our coats, jackets and vests stand up to whatever challenges the wind and rain can muster. Waterproof, tough and built to withstand the elements, our rugged outerwear defines life in the great outdoors.

Each Outback coat or jacket is crafted with pride, down to the last stitch, from the finest materials we can use. And because we put so much into each garment we make, we're not afraid to back it up with a One-Year Performance Guarantee.

Superior materials and craftsmanship, traditional and innovative styling, exceptional quality and value, unparalleled fit, performance and durability - rock solid reasons to make Cultured Cowboy your Original Bush Outfitter.