CULTURED COWBOY PRESENTS
---
Twisted X Boots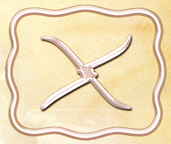 ---
Twisted X Western Boots
Ladies Twisted X Western Boots
Twisted X WWT0032 is designed for cowgirls who are looking for a comfortable and fashionable western boot. The patterns and leathers are selected for those who insist on blending the newest trends with traditional value. The construction offers you, our best in comfort, stability, and durability.
---
Double dip top allows a larger calf comfort,
without being overly open at the top for a smaller leg.



#TX-WWT0037

Medium round fashion toe and elegant embroidery
enhance your attractiveness.

Tried & true ladies boot, in a new darker
oiled leather.

STYLE:
#TX-WWT0037
DESCRIPTION:
WOMEN'S WESTERN BOOTS. LIGHT WEIGHT, CHOCOLATE FOOT & TOP, NARROW SQUARE TOE, DIRECT ATTACH BOOT, RUBBER MIDSOLE, SUPER SLAB RUBBER OUTSOLE
SIZE:
B (5.5 - 11)

COLOR:
CHOCOLATE/ CHOCOLATE
LEATHER:
GENUINE LEATHER
TOE:
R Toe (Medium Round toe)
HEEL:
COWBOY UNDERSLUNG
HEIGHT:
12"
INSOLE:
MOISTURE WICKING, ANTIBACTERIAL, MACHINE WASHABLE, CUSHION FOOTBED, over STABILIZING COMPOSITE SHANK.
MIDSOLE:
RUBBER
OUTSOLE:
50K SUPER SLAB WORKING COWBOY

What a Value!
CC PRICE: $199.99
Compare at: $225.00
---
We have personally found that Thorlo socks made with Thorlon™ Moisture wicking material,
will outlast even "Better" adult socks 4 to 1.
Lots of terry cloth type knitted cushion where cushion is needed to protect little feet. (Material is concentrated on the bottoms, thinner on the top side, for better fit, and better protection.) A small investment now will pay benefits for years to come! And this is your chance to test our "bragging". Buy 3 Get the 4th at Half Price, Gets you 4 pr at a very good price!

Why do we offer this, when we could easily make more $ per pair? Cultured Cowboy knows that once you try these socks, you, like other loving parents, will be calling again to get more of them. When you first see & feel the value, you'll be glad you did. After they last for long times, you realize the end cost is less than those cheap socks that you have to repair, re-stitch, or throw away all the time.
(Moms, they feel so good that the kids, of any age, keep up with them.)
You'll soon be getting Thorlos for your whole family.
Click here for the Thorlo styles, colors & sizes.
---
The secret to the success of Twisted X Boot Company is in the fit, the feel, and the function. These are real boots for real cowboys and cowgirls. The designer worked with Justin and Ariat prior to Twisted X Boot Co. Because Cultured Cowboy sells most major brands of boots, we can assure you, that in this category, you will enjoy a good pair of Twisted X Footwear.
Fit: They fit like a Nocona or an Ariat sizing. Not quite as full as Justin Westerns, or Justin ropers.
Feel: Twisted X layers more cushion, more support, and a long lasting sole in each of their Western boots. Called, Cowboy Comfort, Twisted X Technology encompasses the latest and greatest of high tech with the craftsmanship you have come to expect from better boot makers.
Durability: Made tough. The best leathers and supports are used to ensure you have a boot that can take the everyday rigors of a Western lifestyle. - Enjoy!
---
Condition your Twisted X Cowboy boots with boot oil, leather balm, or a similar leather conditioner. Then, use a matching cream polish to protect the boot from scuffs, or to cover existing scuffs. A good coat of Mink Oil, or Snow Seal will add another level of water resistance and protection. There may be several boot care products you are interested in. Just ask about what all you may enjoy...boot hooks, boot jacks, horsehair brushes to apply and polish, etc. We have it all for you. You see, we want these boots to last a good long time for you! Just a little care will make them go a lot farther. Be sure to wipe the dust and dirt off the skins with a soft cotton cloth each time you take them off after wearing. (At least wash off the mud at your back door, before you track it in Mom's house!) This keeps dust and dirt from cutting into the leathers.
---
Cultured Cowboy Boot Index | Twisted X Index Page | Twisted X Men's Boot Index | Twisted X Women's Boot Index | Twisted X Work Boot Index | Twisted X Kids Boot Index | Twisted X Casuals & Driving Moc Index | Cowboy Comfort Technology
Boot Facts Boot Care Products Boot Trims

Easy orders, shipping, info Click Here!
---
www.culturedcowboy.com | Call Us or Email to Order: 1-864-223-3700 or 1 866-492-6926 Toll Free | cowboy@culturedcowboy.com