Montana Silversmiths has brought quality to the buckle industry for over 25 years. Expanding the popularity of the look of a "Montana" buckle into the jewelry and watch market came naturally. Today, the company has added home decor and dinnerware, (plates). Collectors appreciate the limited edition trophy buckles such as "Bodacious" and "Wimpy". Start your collection today! They only gain in value over time.
You will find matching sets of buckles, earrings, watches, bracelets, etc. Start your lady friends with one piece, then add to their collections as special occasions come around. She will always appreciate a gift from Montana! AND...so will the fellows! Get your special man one of these unique gifts for Father's Day. He will always remember the quality, and you.
---
Guide to Materials
Sterling Silver (S/S).
Our hand-engraved Designer Collection Buckles are 92.5 percent pure silver, the Federal standard for Sterling Silver.
Silver Plate (S).
Beautiful pure silver is electroplated in a carefully controlled thickness.
Gold Electroplate (GP).
This gold is electroplated for a rich and lustrous finish.
German Silver (G)
Is a trade name for full 18 percent nickel silver polished to a jewelry finish. There is no silver in German Silver.
Nickel Silver (NS)
Is the metal in our economy Nickel Buckles. It contains no silver.
Montana Armor™
A Montana Silversmiths technological breakthrough, gives all of our products tarnish-free protection. Your inventory will not tarnish and your customers can maintain the silver's brilliance with an occasional wipe with a damp cloth. Do not use chemical or abrasive cleaners on Montana Armor™. Products returned for refinishing because of chemical or abrasive cleaning will be quoted and charged.
Rubies, Sapphires, Emeralds, Cubic Zirconia & Diamonds!
We offer synthetic rubies, sapphires, emeralds, cubic zirconia and genuine diamonds in two mountings - a Gold Plated Flower and a custom mounting drilled and fitted into the product. There is an additional cost for genuine diamonds or to add stones not shown on product. All rubies, sapphires, emeralds and cubic zirconia are $15.00 each. All diamonds are $98.00 each.
Unconditional Guarantee
Montana Silversmiths stands behind the quality and workmanship of everything they make. Defective items are replaced without question or charge. Guarantee becomes void if merchandise has been damaged by accident or unreasonable wear and tear, neglect, improper service or other causes not arising out of defect in material or workmanship. Return authorization is not necessary.
Packaging
Montana Silversmiths buckles and jewelry arrive in gift boxes. Ready for presentation or gift-giving.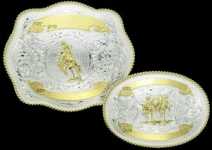 Engraving
All buckles with engraving ribbons can be engraved at Montana Silversmiths' plant and are generally ready to be shipped within the normal in-plant time.
Machine Engraving:
ENG-1 $0.89 per letter
Black Enamel Filled:
ENG-3 $1.20 per letter
Script Engraving:
ENG-4 $1.04 per letter
can only be applied to some jewelry and trim items. Not buckles.
Lettering
Raised Jewelers Bronze lettering (GR69) in six sizes from 3/16" to 5/8", is available on some buckles. Montana Silversmiths' designers will select the appropriate sizes when laying out your buckle or product.
$9.00 per letter.
Jewelers Bronze letters with beautifully engraved fronts are available in two sizes.
$13.00 per letter.
Date Trims
Raised date trims may be added to most of our buckles. Please specify year.
$13.00 per set.
Custom Brands
May be special ordered for most buckles, jewelry or trim items. Add the cost of the Brand to the item price. Please make a clear drawing of the brand to send or FAX to us. Orders as HCB Any Brand.
| | | |
| --- | --- | --- |
| 1-9 Identical Brands | HCB | $75.00 each |
| 10 & up Identical Brands | HCB-10 | $60.00 each |