Custom Saddles
Our customers are sometimes amazed at the results of Cultured Cowboy, working through our saddle makers. Below are some very detailed pictures for those of you who really like to see the finer points of what to expect in a customized Dakota Saddle from Cultured Cowboy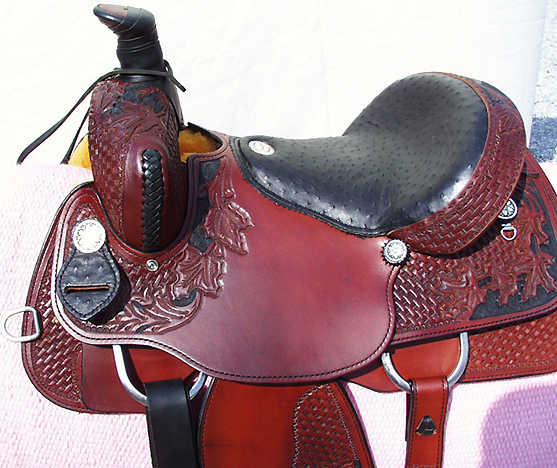 The combination of maple leaf and basket stamp gives a beautiful impression.
As in life with God, or with your family, communication is the key to fulfilled expectations. Being able to know about your horse, your riding style, your terrain, your expectations and your aspirations as well as the way both horse and rider are built,
This custom penning saddle is a great case in point. One of our friends called asking about a black ostrich seat on a nice saddle without having to spend the $4500.00 he had been quoted by a few other saddlers.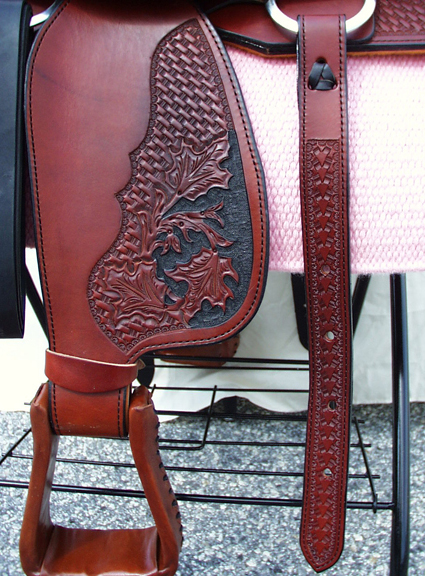 This leather has been conditioned, but pics were taken before the hard turns made into the fenders & stirrup leathers. CC has made the leather fee luxurious! When you have us condition a saddle for you, the stirrup stays in this position for mounting, yet easily swings to fit without excess pressures on the rider while riding.
Now, in the past 30 years, I've seen the price of full quill ostrich hides fluctuate between $250.00 and $800.00 each. (Try buying a Dodge truck at prices from 30 years ago!) At the time of the making of this saddle, Ostrich hides were at about $600.00 each. To save overhead costs to you, Cultured Cowboy purchases your exotic skins and ships them to the Dakota saddler. When making an ostrich seat, we determine, with the customer, whether the hide is cut full and center, (takes the best of the hide, and only one full seat can be made from the hide), as was done here. Or we can do what most makers do and blend from the full quill into the smoother parts and get 2 bicycle seats out of the hide. Seats take a lot of wear. It is best to use the strongest, back, of the bird. If you use the belly edges, it might split on you, usually at the jockey's edge, after a time. So... we only do what is best for you. Beware a saddler using belly of any leather for your seat. It stretches, feels sloppy, and tears with wear. This is exacerbated when cheap foams are used under your seat. This saddle has the best of seat foams.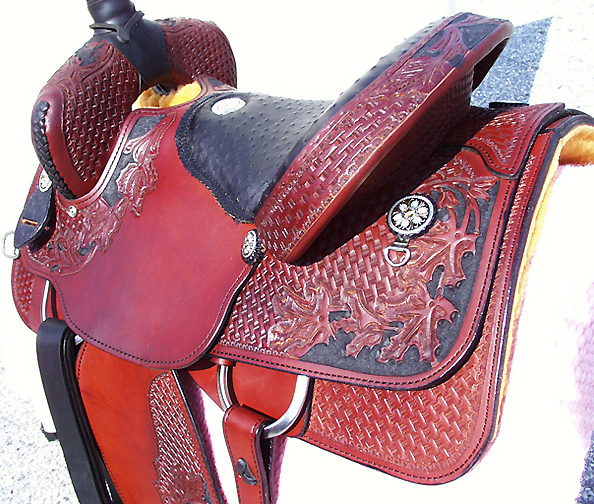 All edges have been properly glued and stitched with black thread to "tighten" the look & feel of this saddle. Special ordered Montana Silver concho trim is used.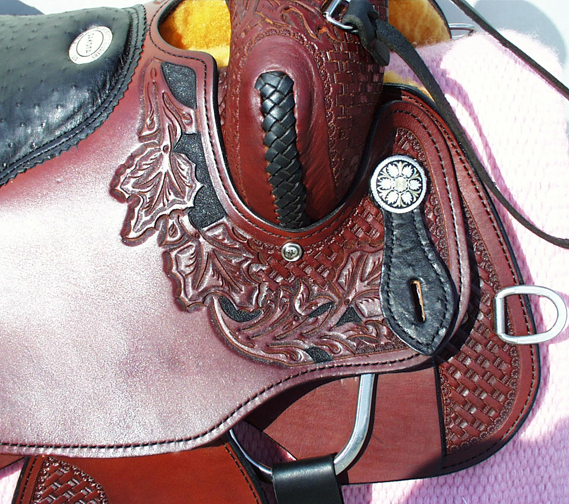 NOW Pay Close Attention: any exotic seat must be conditioned often, or it will not last. NO MAKER will warrantee the seat, if you have not conditioned it. IF YOU keep it conditioned, and ride under NORMAL conditions, it will last a good time. If caught in rain, or mud, clean and re-condition asap. It is not as delicate as tissue paper. Ya just gotta be more attentive than with a cowhide.
Smaller areas of the exotic can be used for trim at only the cost of additional labor, since the "exotic" has already been bought for the seat. Trim will be from trim areas. On this DAK9555 model, the leather conchos, and front holders were also overlaid with the ostrich. And while talking labor, an ostrich hide, or alligator, takes a little more effort than a suede cowhide. Expect a little extra for labor too.
Function and looks for a most enjoyable sport! This saddle is one of several functional penning saddles that Cultured Cowboy offers to you. On this particular model the rider wanted closer contact. The saddler shaped skirts and stirrup leathers working with jockeys and fenders to accomplish this for you.
When penning, it is important that the team work together and that each member has the right equipment. You need something to let you get in the herd and see those numbers and to be able to take the darts and turns of the sport. Same saddles will work good for sorting! Shown is the model DAK-9555 with a very popular roper type seat. Here, a one piece leather seat is used for grounding, then a padded bicycle seat is added for just a right touch on the seatbones. Allows comfort whether standing in the deep roper stirrups, or sitting down to cut 'em through the gate. That 4 inch cantle will not let you get "left behind". This saddle uses a high tech NASA type foam padding for the seat that will not compress to "bottom out" like carpet foam types that may be used in other saddles. It is sort of heat activated to conform to your seat bones, like a heavy duty Temperpedic bed would. (This material has more density than the beds.) Even so, it does not feel "Double thickness, like a diaper stuck between your legs. All the comfort and no slippery feel like with a seat saver.
The position of the stirrup leathers is optimized for your sport. The owner here chose smooth side out on the fenders and jockey, for a finish he can appreciate. This 9555 is shown with a Cheyenne roll on matching leather. Stainless cantle lacing is available. This penning pommel is straight up to allow plenty of room for your thighs as you are up in the saddle. Deep roper stirrups will give lots of support when riding. Skirts are conventional. Shown with a special 9555 black inlayed basket tooling pattern, with maple leaf highlights. You can choose any tooling pattern for this saddle model; or have this tooling pattern used on other Dakota saddles. Stainless steel breast collar dees for double tug breast collars have been added.
No junk under side either...stainless, drop rigging, leather covered stainless Blevins buckles. Stirrup leathers that are made to last. (fastened by copper rivets) See how flexible the whole legging is when properly conditioned for you. Using Lexol and Extra Virgin olive oils, we can ad depth without making the saddle so dark. Using pure Neatsfoot of a high grade, you can darken your leather more, if you so desire. Once we finish the saddle, you should simply wipe down dust & dirt off, then use a light coat of Lexol Conditioner after you ride, often enough to keep the moisture balance in your leather, and this way, you don't have that dreaded "every 6 month" cleaning and reconditioning job. Remember that when you saddle soap your saddle, this cleans the pores, but conditioners are also removed. Add them back!
Real sheepskin adds another whole layer of the sheep leather across the entire skirts. See how the fiber is holding well when all the weight of the saddle rear is on the small area of my hand. Across your horse's back, very comfy.
Cultured Cowboy has arranged with Dakota to allow a choice of extra heavy fleece on the skirts, either heavy synthetic or real sheepskin. Have a hoofpick holder on the flank billet, or any of the other options. Choose your color of leather; but, this saddle is spectacular as is! If you are interested, you can give us your true inseam measurements and we can have the saddle fitted for you. This is especially handy for youth, ladies, or tall cowboys! You can get up to six saddle strings stung through the tree, or on dees under the conchos, (shown with rear dees). Choose between full or regular Quarterhorse bars. The standard nylon tie straps allow more close contact between horse and rider. Leather is available if you prefer. Call or email us with your needs. We will "get 'er done" fer ya!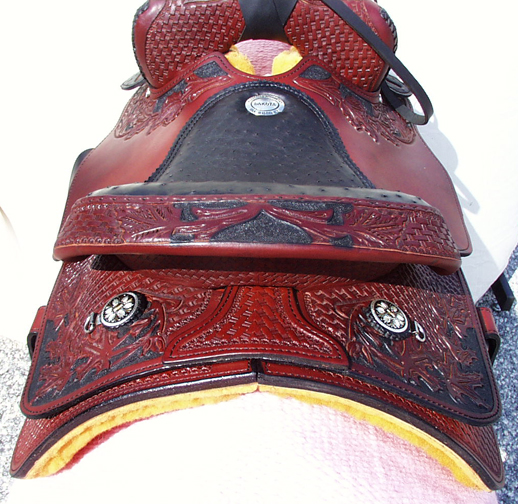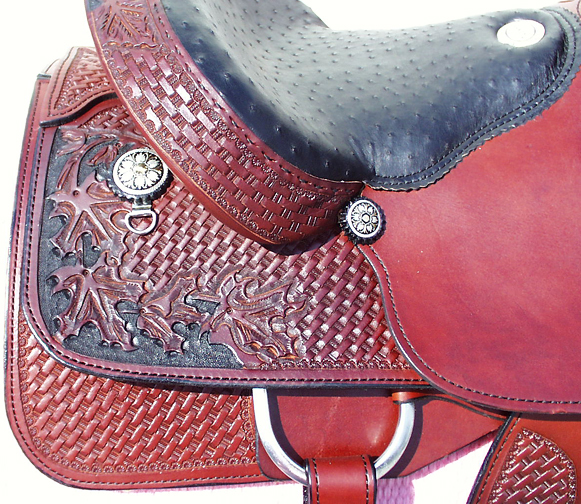 This rear housing is stitched together and properly attached to the saddle. You could choose a tooled, stitched plate, as shown,or laced together with rawhide.
---
Hand rubbed and conditioned from some of the best Argentine type skirting leathers. Hand tooled and custom black dyed inlays for highlighting. Black accent points on horn wrap and girth tie straps. Matching headstall and reins, and breast collar were made for the complete set.

Beautiful to view, beautiful to ride. Engineered comfort for horse and rider.

Matching Breast collar and headstall with reins is available too.

No. DAK- 9555 Penner Roper

TREE: Fiberglass covered Full Quarterhorse Bars. 5 year warranty.
HORN: Standard Post 3 3/4" High 2 1/4" Cap.
SEAT: Black Full Quill Ostrich
CANTLE: 4" Tooled Leather
RIGGING: Double Stainless Steel 7/8 position.
FINISH: 9555 Spot carved Maple Leaf with Black inlay Tooling pattern. Ostrich trim at conchos and latigo holders. Special Montana Silversmith concho trim set. Stainless steel dee clips under conchos.
STIRRUP LEATHERS: 3" with leather covered buckles.
COLOR: Dark Golden Brown. (Other Colors Available).
WEIGHT: Approx 35 lbs.

SEAT - 15", 16", (17" Extra Charge). Bicycle Seat

NOTE: The reasons Pricing is left off: 1) Dakota asked us not to advertise our low pricing. 2) Almost all of these saddles are customized for you, and the Low Pricing must be figured depending on the many options chosen. Thanks!

| | | |
| --- | --- | --- |
| Seat Sizes | Compare At: | Our CC Price |
| 15", 16" | $2900.00 | $ |
| 17" | $2945.00 | $ |