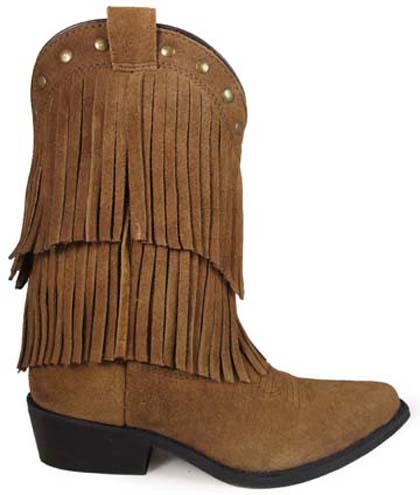 Children's Cowboy Boots
Rubber sole and manmade liner allow flexibility when Dancing, walking, and playing in your child's boots. Leather outer allows the feet to breath, and the boot to shape to your children's feet.
Did you know that the reason for the stitching on the foot is to help the leather break in properly? It is there to insure that the leather wrinkles in the right place instead of hurting little toes.
STYLE:
#BG-3514
DESCRIPTION:
BROWN LEATHER WESTERN
SIZE:
Child: 8.5 - 3
Youth: 3.5 - 7
COLOR:
BROWN
LEATHER:
LEATHER
TOE:
SNIP
HEEL:
WESTERN
WIDTH:
D
INSOLE:
CUSHION
OUTSOLE:
RUBBER

BG-3514
CHILDREN'S
CC PRICE: $65.99
Compare at: $85.00

BG-3514
YOUTH
CC PRICE: $69.99
Compare at: $90.00

---